Company Categories









Companies in this category

Name of the company / Lombao Estudios
Telephone / (537)204-0545
Email / contacto@lombaoestudios.com
Compañía especializada en brindar soluciones exclusivas de publicidad para negocios. Servicios de diseño gráfico, desarrollo de software, sitios web y marketing.
Creador de los productos lombAD PRO y Lombao Reservas.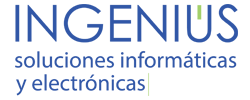 Name of the company / INGENIUS
Telephone / (537)205-6082
Address / Calle 36 A no 705. Playa
Email / info@ingeniuscuba.com
· Empresa de Servicios Informáticos. Software a la medida, soluciones CRM y ERP, Web, SEO, servicios de reparación y montaje de Hardware.